MARGUS Vapo Gun Biocide Spray
for Environment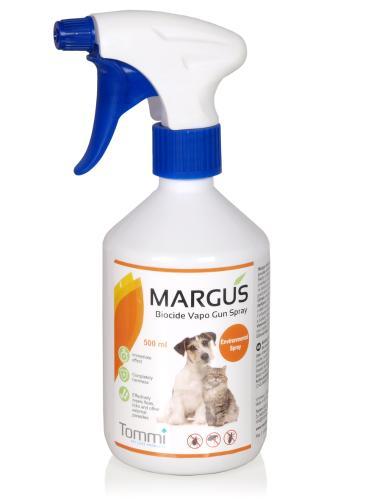 MARGUS Vapo Gun Biocide Spray
for Environment
Only about 5% of all fleas live directly on animals, 95% of them live in the outside environment. A flea female lays up to 50 eggs a day and spreads them all around with every move of your pet. 
Your pet and your pet´s immediate environment (bed, blanket, pillow, cat scratcher, car ...) will be effectively protected by regularly applying MARGUS Vapo Gun spray to the environment.
Parasites will be eliminated in 3 hours after application
Safe and non-toxic
No stains or scents left
Active substance:
Natural extract Margosa 15g
Apply Vapo Gun spray 1x to 2x a week to your pet´s immediate environment. 
Spray until the surface of object gets sufficiently damp. 
Other MARGUS preparations
Fleas and ticks are parasites that are able to infest the environment and could damage the health of your pets. MARGUS biocidal products protect both the animals and the environment safely and effectively.